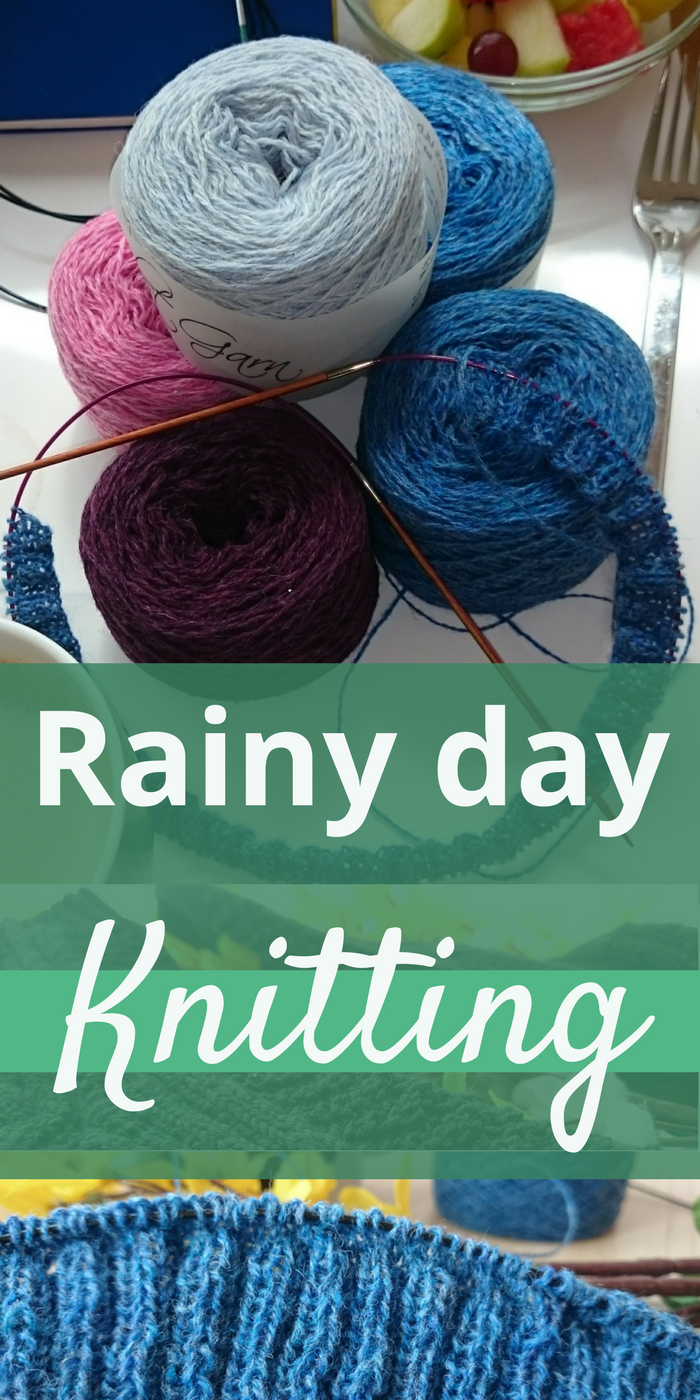 Just a quick update today. I want to get at least a little bit of knitting in before I go pick up the wolflings. Need some color on this rainy day. I'm planning to write another post for Tuesday. Would have done it for Monday – but let's face it, I need at least one good day of the wolflings being in Kindergarten to get some decent writing done. So Tuesday it is.
The Papa Wolf's sock pattern
The pattern is done – except for the photos. The previous Fridays were too busy to get Papa Wolf outside to take pictures of the socks. And today it's raining. It's been raining all night and will likely continue to do so for the rest of the day. That's summer in Hamburg for you. Apparently, Berlin is worse off with cellars flooding and streets being submerged… That is not so much a usual occurrence. So, good luck to you folks from Berlin! I hope the rain will let up soon. The pattern still needs to be test knit before I can release it. I do want to release it for free but that doesn't mean
But I digress. The pattern still needs to be test knit before I can release it. I do want to release it for free but that doesn't mean that it shouldn't be as good as it absolutely can be. I'll let you know once I know when it will be released.
New techniques thing
About the new techniques, I decided to try steeking first. I cast on for Where the Wild Sheep Roam. And no, I didn't do a swatch. Yes, that is ill advised. But I have knit with the yarn before. I am using up the leftovers of Holst Supersoft from the Hanami I've knit a while back. And I simply didn't have enough left to knit a swatch. I really wanted to knit one. Well, wanted is not the right word. I honestly planned on knitting one. But I didn't want to buy any yarn right now. Tiny Wolf's birthday is coming up and I not only have to bake a whole lot of cake (need some for Kindergarten, too) but I also still have to buy the presents and my own birthday is only five days after and that requires yet more cake… So, yarn diet it is. And I'm hoping for the best. I know the knitting will loose some length after being washed but it shouldn't shrink in width. It should be fine. (Famous last words)
So far I'm not even at a point where there is any colorwork to be seen but I only just started and for now, it's growing quickly. Progress will slow down once I start with the sheep, though.
New design?
I am also planning on designing something else. Possibly a shawl. I would really like to knit one and that could potentially be good travel knitting. We'll be on summer vacation the first week of August and this time I really want to take some knitting – even though it's hard to knit when you're looking after a two- and a four-year-old.
Anyway, I've really enjoyed making that sock pattern and want to do more designing. And maybe get into the Knitty at some point, that'd be cool. The only thing I didn't enjoy was translating the pattern to German. German instructions seem a lot bulkier and more unwieldy even though they are filled with abbreviations. In my adult knitting life, I have always preferred English patterns. I wonder if there are more German knitters like me?
What are you up to? Do you enjoy designing patterns? If you are a multilingual knitter, do you prefer English patterns or patterns in other languages? What kind of knitting do you take on vacation? Please, let me know in the comments below.
So much for my "short" post. Ended up longer than I thought it would. I have a couple of post topics in planning stages that need to be researched and written up. I want to be able to release a post while I'm on vacation so I need to write up a bit ahead of time. But you will also still get regular updates like this one. Check back on Tuesday to see the next post!